Recent Projects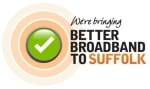 Acting as Programme Director for the Suffolk Better Broadband Programme, part of the UK Government's Broadband Delivery UK (BDUK) Programme.Suffolk has signed two contracts with BT to extend Better Broadband coverage to over 98% of premises in the county by 2020.

Advising investment management firms on a range of topics, including: broadband/fibre infrastructure investments, cable TV sector, Pay TV, mobile sector and radio spectrum, telecoms equipment suppliers, technology innovation, etc.

Advising a major international telecommunications equipment supplier on aspects of their corporate/technology strategy.
Our Values
Our goal is to help you create value and to be successful.